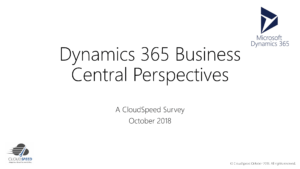 Survey findings are now available for the latest CloudSpeed survey, with over 100 Partners sharing their anticipated sales, traditional seat migrations, workload attach rates, and resourcing requirements to name a few.
I believe you will find the results of this survey both interesting and helpful in making the most of the Business Central opportunity. If you have already participated, you should have received the results. If not, let me know.
If you would like to receive the results, please contribute your perspectives here and I will send you the survey findings.