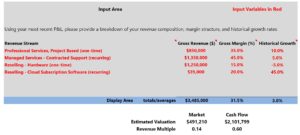 What is your business worth in a Cloud-first world? How does that compare with others in the Microsoft ecosystem? Find out by confidentially benchmarking your business using the proprietary CloudSpeed Business Valuation Model.
Whether you're contemplating a merger, acquisition, sale, needing to raise capital to pursue your Cloud opportunity, or just plain curious, contact me to benchmark your business today.
You'll need your most recent P&L statement handy, and the process takes under 30 minutes. I'll invest the time if you will. No cost, no obligation.