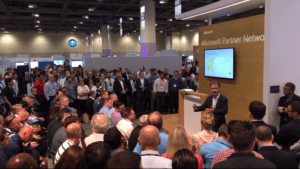 Cloud Benchmarking
Many business owners fear they are falling behind in a Cloud-first world. Based on CloudSpeed's proprietary research and Cloud business modeling tools, benchmarking establishes where a Partner business model is at in terms of Cloud competitiveness, and identifies the core opportunities a Partner can realistically capitalize on.
Cloud Business Plan Development
For business owners looking to aggressively acquire Cloud market share before the competition beats them to it, developing a Cloud Business Plan ensures they have a solid financial blueprint to fully capitalize on the Cloud, raise needed capital, and create maximum shareholder value.
Business Valuations & Offering Memorandums
Increasingly, Microsoft Partners are pursuing more focused Cloud growth strategies, which require external funding. Whether seeking this funding from private equity, venture capitalists, increased operating lines of credit, or through some form of merger or acquisition, the current business must be valued and a viable business plan developed. CloudSpeed can help ensure appropriate providers of capital have what they need to make the required investments.
Merger & Acquisition Consulting
Potential purchasers of Microsoft Partners often have limited insight into their core value and profitability, and risk overpaying for an acquisition. Conversely, Microsoft Partners wishing to sell their businesses often do not fully understand how a potential purchaser truly values their business, and so risk settling for less than they could. CloudSpeed reduces the risk for either party, by performing due diligence on company valuations, and helping shape post-acquisition value creation strategy.